Grade 3 Swimming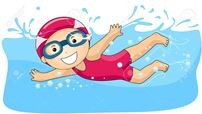 Grade 3 swimming lessons will begin on October 27.  This years dates are  November 3, 24 and Dec 8 and 15.  There will be one more date in Novebmber which will be posted, when scheduling conficts are resolved.
Gr 6 Trip to the Legislature
Mrs. Killen"s Grade 6 class will be going to the Legislature on November 8, 2017.  The bus will leave the school at 11:00am and return approx. 4:30pm.  Watch for permission slips and more information to come home shortly.
Picture Day Wednesday October 18, 2017
Hot Dog Day Friday, October 20
Order deadline is Wednesday, October 4.  
Forms available on the website under Forms.
Cross Country Run Rescheduled
Dear Parent(s)/Guardian(s) of Griffiths-Scott School's Cross Country Run Team
Due to weather conditions predicted for this Thursday, September 21, the Rod Drebert Cross Country run at Peace Hills Park has been postponed until Thursday, September 28th, 2017.  The race times will remain the same for those who would like to meet us at Peace Hills Park to watch our students race.
We will still be heading out to our other race on Tuesday, September 26th as scheduled!  That just gives us one more week of running to practice before the big races!
If you have any questions, please don't hesitate to call the school at 780-387-4101 or email at megan.pezderic@wrps11.ca or charlene.saunders@wrps11.ca
Terry Fox Run
Volleyball Tryouts
All students in grades 5-8 who are interested in playing volleyball are invited to attend a tryout next Tuesday, September 19, 26, 27, 2017.
Orange Shirt Day
We invite all students and staff to participate in Orange Shirt Day on September 29th.
By wearing orange this day we embrace the 'every child matters' theme as a collective.
Orange Shirt Day is a legacy of the St. Joseph Mission (SJM) residential school commemoration event held in Williams Lake, BC. in the spring of 2013.
It grew ot of Phyllis' story of having her shiny new orange shirt taken away on her first day of school at the Mission, and it has become an opportunity to keep the discussion on all aspects of residential schools happening annually. 
For more in formation please visit www.orangeshirtday.org
Welcome to Griffiths-Scott School
We've had a busy start with lots of smiling faces as we settle into classrooms, routines and a full year of learning.
Supervision outside begins at 8:20 daily as our buses arrive.  Parents who are driving their students to school will need to park on the street.  The school parking lot is for staff and has only a few spots for handicap parking and visitor parking.  The bus lane must remain open until buses leave at 8:25 and cannot be used for parking at any time. All students should be at school by 8:30 to be ready for the 8:35 bell.  Students will be invited into the school at 8:23 when the buses arrive.  The students in K -5 use the entrance by our new classrooms.  Students in grades 6,7 and 8 use the front entrance to enter and exit the school.
Our school day runs from 8:35 to 3:35.  Lunch is now at 12:15 – 12:35 and noon recess is 12:35 to 1:05.  Afternoon registration is at 1:05 to 1:08 and then afternoon classes begin.  All students need to arrive on time by 8:35 a.m. and 1:05 p.m. or they will be marked late.  Wetaskiwin Regional Public Schools has a new attendance strategy in place which GSS will be following to ensure that our students' attendance at school is a priority.
We are happy to have the Nutrition Program sponsored by the provincial government continue from Millet School. This program provides healthy snacks and lunches to anyone who would benefit from it.  If your child requires regular breakfast and/or lunch or just needs it once in awhile please contact Mrs. Coleman.  We are so fortunate to have this program and it is a great support for families!   The program also helps our school provide healthy snacks every day!
Our Open House is Wednesday, Sept. 20 at 6:30 p.m. That is your opportunity to visit your child's classroom, meet the staff, and tour the school if you haven't had a chance yet. Our Awards Night for academic awards for students in grades 5 - 9 of the 2016-17 school year will follow in the gym at 7:00 p.m. Please join us if you are able!
Check your email for the September newsletter by the end of the school day on Friday, September 8. Please feel free to call (780-387-4101), text (780-216-1474), email (susan.coleman@wrps11.ca) or drop into the office anytime to see us if you have any questions.
Mrs. Coleman (Principal) and Mr. Wilson (Vice-Principal)
Attendance Matters
New To Millet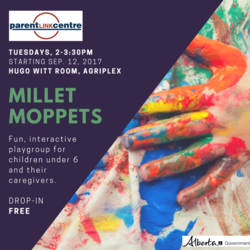 MILLET MOPPETS

A free, fun, interactive group for children under 6 years of age and their caregivers. There will be toys, games, crafts and music.  Supported by the Wetaskiwin Parent Link Center.This group will take place every Tuesday afternoon from 2 - 3:30 p.m. starting September 12, 2017.  Located in the Hugo Witt Room in the Millet Agriplex.
Co-Op School Equity Program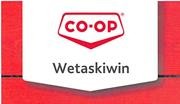 Please check out our parents page for information regarding the Co-Op School Equity Program.  Our school co-op number is 84101
Learning Commons - What Is It.?
Has your child mentioned "Learning Commons" at home?  If so they are referring to the learning environment in the Library that is new this year at GSMS.  Mrs. Killen and Mrs. Coleman spend part of their teaching time each day in the Learning Commons.  Students work individually or in small groups with the support of the Learning Commons teacher in coordination with their classroom teacher.  It is an alternate learning space and is supportive of a variety of students needs.  If you have questions or would like more information about Learning Commons please speak to your child's teacher of Mrs. Coleman.
World Read Aloud Day
World Read Aloud Day was on February 16, 2017. GSMS and Millet School shared a very successful celebration on this day! Our GSMS students went over to Millet School to share stories, reading and a small snack with their younger buddies. The grade 8 class made special bookmarks for all the Millet School students! All students (young and old) were engaged in their reading and it was a great leadership opportunity for our Griffins.
Girls Volleyball
Congratulations girls on a great season and thank you to Deb and Gareth Machin for pictures of our team in action.
Division News